South Dakota Public Safety DUI Program
Four-year Evaluation Report, 2004-2007
In 2004 the South Dakota Department of Public Safety initiated a pilot study to examine the effectiveness of The Change Companies
®
' standardized curriculum for addressing first-time DUI offenders in the state. According to the report, "The Council of Substance Abuse Directors conducted a review of the nation's top resources of time-proven, evidence-based DUI educational curricula. After detailed analyses and comparison with the Council's perceived needs, the curriculum offered by The Change Companies
®
was recommended." In particular, the curriculum was chosen because of its focus on the development of a personal change plan and its emphasis on coping skills to avoid future impaired driving behavior. The target population for the study consisted of first-time adult DUI offenders. Thirteen Core Alcohol/Drug Treatment agencies partnered to adapt the curriculum, participate in training and deliver the program. During the four years, the course was delivered 555 times serving 4,191 participants. The comparison group consisted of first-time adult DUI offenders who did not receive the standardized curriculum.
Key findings:
Recidivism was defined as occurrence of another arrest. Four-year results indicate a 27% reduction in recidivism in the experimental group as opposed to the comparison group. (p<.0001)
Reducing the recidivism rate for the comparison group would mean 1,150 fewer DUI/DWI arrests.
30% of course participants were determined to be at risk of substance dependence based on a standardized screen.
Evaluation at completion of course (n = 3,470)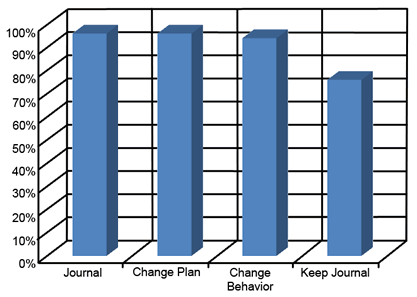 Of participants completing the evaluation survey (3,470), 96% described the Journal and the Change Plan as helpful in reaching their goals for the course and 94% thought the course material would assist them to change their behavior. In addition, 76% planned to keep their Journal, an indication that they took the change plan seriously.
Interview Ratings at 12 Months
Post-program in SD (n = 854)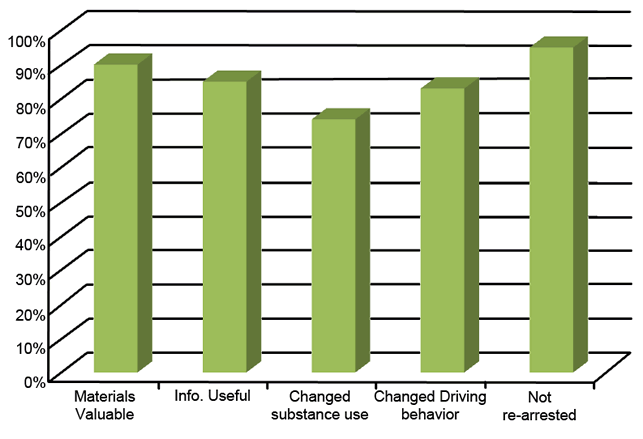 At 12 months, 854 participants completed a follow-up survey. Participants indicated that the materials in general (90%) and the Change Plan in particular (85%), assisted them in efforts to change their substance use. The majority of participants reported changes in their substance use (74%), driving behavior (83%) and have not been rearrested (95%).