The Acceptance of Interactive Journaling® in a Local Jail Population
Buncombe County Detention Facility in North Carolina is conducting a randomized clinical trial currently in progress that explores whether a self-directed Interactive Journal (Changing Course) provided to inmates who meet diagnostic criteria for substance dependence will impact the rate of individuals seeking treatment post-release and recidivism rates. Offenders meeting the criteria are offered the Journal and staff routinely asked about and observed usage and completion of the Journal. This report focuses on the inmates' willingness to accept the Journal and self-reported usage and staff observed usage of the Journal while incarcerated.
- Of the 70 eligible experimental group participants, 69 (98.6%) agreed to take the Interactive Journal.
- Of the 59 inmates available to staff, 50(85%) reported completion of at least some of the writing tasks prior to release.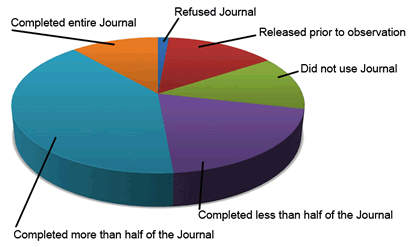 Citation:
Proctor, S.L., Corwin, C. J., Hoffmann, N.G., & Allison, S. (2009, January/February). Jail Inmates: A trademarked journaling process shows promise in giving offenders insight on their substance use. Addiction Professional, 22-25.