Reducing Prison Misconduct through the Life Connections Program
The Life Connections Program (LCP) is a faith-based curriculum developed in collaboration with the Federal Bureau of Prisons' Chaplaincy Services and The Change Companies
®
. The program consists of 14 individual Interactive Journal topics used by participants over an 18-month timeframe. Volunteers from the community from various faiths work directly with the inmates who have applied and been accepted to the program. This study matches same faith volunteers with an inmate from the general population based on several key measures including criminal and misconduct history, prior religious experience, motivation, community integration and demographic information. The matches were created on information from the time period prior to participation and misconduct monitored during the participation period.
Key findings:
* Compared to matched controls, inmates participating in the Life Connections Program had about half the instances of serious misconduct during the 18 months of the study.
% of group members with serious misconduct infraction.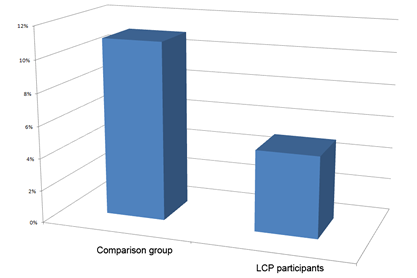 Citation:
Camp S.D., Daggett D.M., Kwon O, & Klein-Saffran J. (2008). The effect of faith program participation on prison misconduct: The Life Connections Program. Journal of Criminal Justice, 36; 389-395.
French S.A., & Gendreau, P. (2006). Reducing Prison Misconducts: What Works! Criminal Justice and Behavior, 33; 185-218.