Interactive Journaling® Found Effective In Randomized Controlled Trial
Proctor, S. L., Hoffmann, N. G., & Allison, S. (2012) The Effectiveness of Interactive Journaling in Reducing Recidivism Among Substance-Dependent Jail Inmates in
International Journal of Offender Therapy and Comparative Criminology
Volume 56 Issue 2, April 2012.
Introduction
The Changing Course Interactive Journal was created as a self-directed resource for participants to start the process of making positive life changes. Participants reflect on their current choices and consider the connection between alcohol, other drugs and crime. Emphasis is placed on weighing the costs and benefits of making life changes, learning effective strategies for successful self-change and developing a plan to follow through with the choice to change.
Description and Methods
In a Randomized Controlled Trial, substance dependent participants in a jail facility were randomly assigned to two groups: 1) the control group received a government booklet on the relationship between substance use and criminal behavior, 2) the experimental group received the Changing Course Interactive Journal. All 183 participants met DSM-IV-TR diagnostic criteria for a substance use disorder, had a current offense that was substance-related, and were repeat recidivists.
Findings

Statistically significant results show the recidivism rate for the Interactive Journaling
®
group was 15% lower than the control group. This was measured by individuals being booked within a 12-month period following entrance into the study. The data suggests that Interactive Journaling
®
has merit and substantial clinical importance for those offenders who are substance dependent.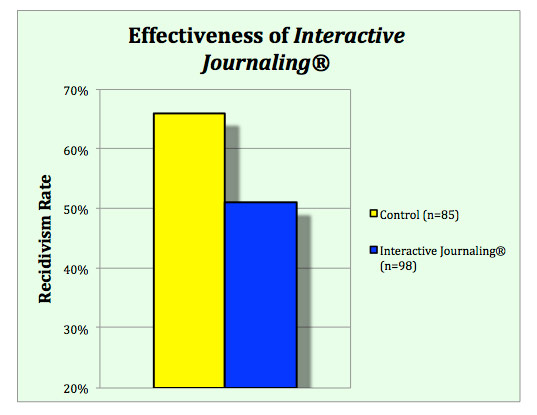 Additional Information
The acceptance of Interactive Journaling
®
for this study was 98%. For another study regarding the acceptance of Interactive Journaling
®
with this population, please visit:
The Acceptance of Interactive Journaling® in a Local Jail Population
For more information regarding the Changing Course Interactive Journal, or to view a sample, please visit the
Changing Course product page.
Click here
here
for prepublication draft.