Interactive Journaling® Found Effective In Reducing Criminality and Substance Use
Moore, Mitchell Jay. "Examining Participants' Motivation to Change in Residential Drug Abuse Program Graduates: Comparing "Stages of Change" Assessment Data with Post-Release Status." Ph.D. dissertation, University of Minnesota, 2011.
This study compared Residential Drug Abuse Program (RDAP) completers against RDAP non-completers under supervised release (n=195). The following results were found in the areas of criminality, substance use, employment stability and housing stability.
---
---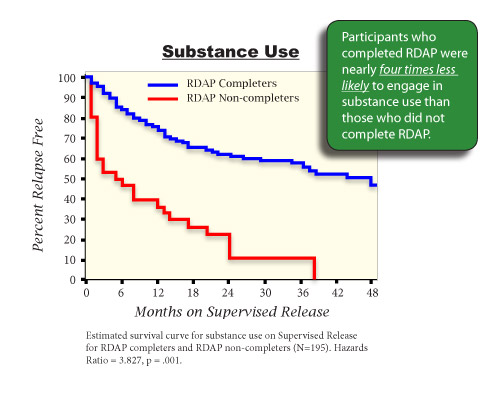 ---
---
Overall, those who did not complete RDAP were at more than three times greater risk for having their supervision revoked than RDAP completers.
(N = 195) Hazards Ratio = 3.500, p < .05.