The Change Companies®
Impaired Driving Industry Leader
Facilitator Guides are an effective way to guide facilitation toward program needs. Dose and intensity can be focused around the unique needs of the state.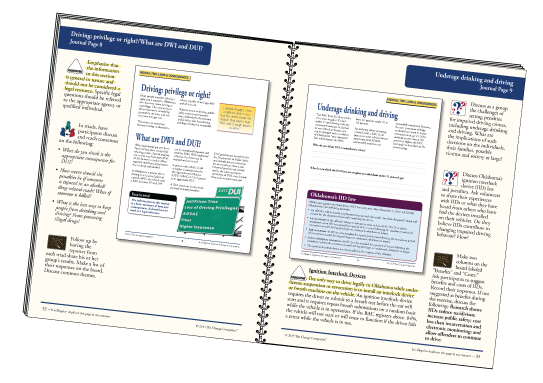 Twenty states choose to customize their impaired driving Interactive Journals and/or Facilitator Guides with The Change Companies®. Customization provides the opportunity to include laws, penalties, statistics and other information unique to the state. We look forward to working together to develop resources that meet your state's program needs.
Evidence-based impaired driving Interactive Journaling® curricula include ...
First-time and multiple DUI/DWI/OWI offender education programs.
Drug offender education intervention programs.
Traffic safety programs offered to high-risk drivers with the objective of changing risky driving behavior.
Youth offender programs for young people convicted of alcohol/drug and other related offenses.
Impaired driving prevention program serving new drivers.
Drug and alcohol treatment programs as an extension of intensive impaired driving interventions.

There is no one-size-fits-all approach
While we adhere to core research tenets, we believe that states and populations are unique. The Change Companies® customizes impaired driver intervention programming products and services to meet the specific needs of our state partners.
Education does not equal change
Information is a good start, but effective programming focuses on behavior change and providing participants with tools and motivation to make positive changes. The Change Companies® applies leading change theory and strategies throughout our impaired driving resources.
Collaboration leads to positive results
A collaborative approach with state and local partners leads to greater program quality, improved engagement with program populations, increased buy-in with the state's service providers and smooth implementation.
Quality counts
Since program participants are the ones facing the challenges of behavior change, The Change Companies® puts high-quality and effective program tools in the hands of each program participant and service provider.
There is no silver bullet
The Change Companies®' resources are open to evolution and continually integrate current evidence-based practices, in-state expertise and applicable research and experience from other states across the country.
Programming is only part of the solution
Effective impaired driving intervention requires a coordinated effort including screening/assessment, education, training and program evaluation. The Change Companies® can provide a full continuum of products and services to meet your state's goals.

INTERACTIVE JOURNALING ®
is a structured and experiential writing process that motivates & guides participants toward positive life change. It brings consistency to service delivery while keeping program participants engaged and focused on their change goals.
Since studies estimate that most impaired drivers take 300 to 2,000 impaired driving trips before being arrested, it is clear that a reduction in recidivism requires a significant change in behavior – whether that be driving behavior, substance use or both. To this end, The Change Companies® provides a unique focus and expertise on how to motivate and guide people toward positive and lasting behavior change. The Change Companies® has been a long-time partner to states and local providers in the creation of evidence-based programs that promote change among this high-risk population. Using prevailing change research, Interactive Journaling® and best practices from industry leaders across the country, The Change Companies®' impaired driving programs have been proven effective in improving offenders' knowledge and attitudes, increasing personal responsibility and commitment to change and decreasing recidivism.
The Change Companies® currently provides customized DUI/DWI, youth offender, multiple offender, traffic safety or impaired driving prevention curriculum services to Alabama, Alaska, Arkansas, California, Colorado, Connecticut, Hawaii, Indiana, Illinois, Missouri, New Mexico, North Carolina, Oklahoma, Pennsylvania, South Dakota, Vermont, Virginia, Washington, Wisconsin and Wyoming.
A curriculum which meets the ASAM 0.5 Level of Care: Early Intervention requirements allows providers to meet all impaired driving offenders where they are and present the opportunity for more treatment if necessary.
-Dr. David Mee-Lee
Chief Editor of The ASAM Criteria, Third Edition
Senior Vice President, The Change Companies®
In-person Training
Come see us in Carson City, Nevada, for training. Or, let us come to you for a training that fits your needs. From Implementation training and Training for Trainers, to specialized training with subject-matter experts, we offer a wide variety of options to meet your needs.
Impaired Driving: Awareness
This video takes a close-up look at impaired driving offenses and their widespread impact. This thought-provoking DVD is a valuable resource for programs that help people make positive changes to their high-risk attitudes and driving behaviors.
Evaluation Services
Impaired driving curricula come with course evaluations, as well as pre- and post-tests that can help accurately measure knowledge, attitude and behavior changes. Through our partner organization, Train for Change Inc.™, we can work to develop appropriate reporting solutions and outcome studies.
Assessment Tools
Assess with confidence using clinically driven assessment, service planning and placement, and outcome measurement tools. The Change Companies® and Train for Change Inc.™ offer a variety of options.