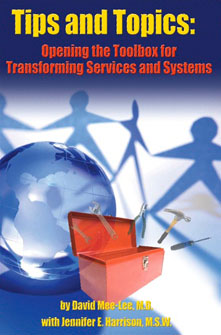 Tips and Topics: Opening the Toolbox for Transforming Services and Systems
Item #: TNT
158 pages
Minimum purchase of 1
$23.95 each
by David Mee-Lee, M.D. with Jennifer E. Harrison, M.S.W.
A collection of insightful clinical, systems and personal growth information can be found in Tips and Topics. This book was created to benefit professionals who work directly with people who have mental health and addiction issues. This is a compilation of seven years worth of practical monthly e-newsletters written by David Mee-Lee, M.D.
The authors cleverly translate evidence-based theory into practical applications that you can use everyday with your clients. Tips and Topics is a resource that you will want to keep readily available.
** $23.95 Shipping charge for International orders**