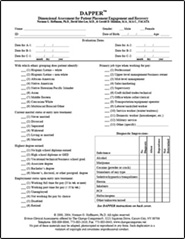 Dimensional Assessment for Patient Placement Engagement and Recovery
The DAPPER
™
consists of ratings covering the content of The ASAM Criteria to provide quantifiable measures of current status. Up to six ratings can also document progress or changes over time. The ratings form subscales to pinpoint problems and strengths in accordance with all six of The ASAM Criteria dimensions. Flowcharts provide assistance in determining the appropriate level of care.
This instrument can be used as a semi-structured interview for routine clinical work or staff training.
Applications:
At clinic intake to document strengths and problem areas as part of treatment planning and placement.
Clinical management tool to document current status and treatment progress over time.
Ideal for training and educating staff on the assessment and reassessment process utilizing ASAM's six dimensions.
Practical for monitoring status for longer programs such as those associated with drug courts.
Benefits:
Appropriate for adults and adolescents. Focuses attention on those areas requiring the most urgent need.
Provides a foundation for formulating reports and communication with other professionals.
Item #: DA-T

|

Package of 25

|

1 minimum
$78.75 each
Related Products